Poster: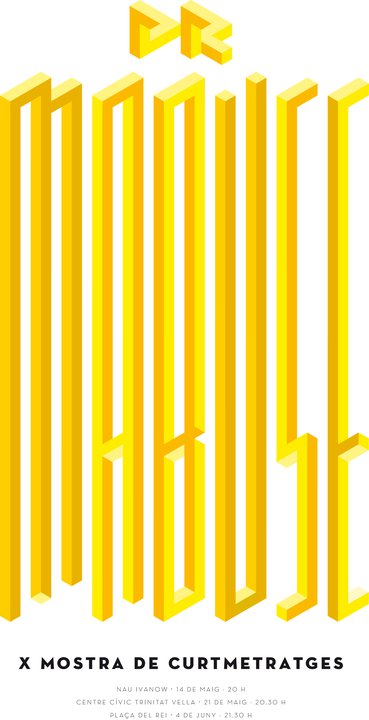 Projected shorts:
Nau Ivanów: May 14, 2011
Mabuse 10th Anniversary Special.
Screening of some of the curts who have attended the show and presentation of the compilation DVD.
Trinitat Vella Civic Center: May 21, 2011

When you run by Mikel Rueda When you run you can only hear your footsteps and your breath, nothing else.

Vincent of Sam
When Alfredo dies without revealing to his wife the hiding place of the fabulous fortune they won in the lottery, Vicenta will search everywhere until she assumes that the only way to find out where it is is to ask her late husband.
Being here by Silvia González Laá Today is Noa's birthday, and she reproaches her mother for not being there for her birthday last year. Sofía tries to earn her daughter's trust by telling her stories that she doesn't want to hear.
Jaime Dezcallar's migala
A man with arachnophobia decides to buy a poisonous migala to release it later in his own house. His life changes at that moment.
Bureaucracy by Rosa Márquez
Bureaucracy (from French bureaucratie): inefficient administration due to paperwork, rigidity, and superfluous formalities.
Stay with me by Zoe Berriatúa
I don't love you either, but we can be friends. Since you've killed me… At least stay with me for a few more days.

A shitty boyfriend by Borja Cobeaga
After four months without seeing each other, a girl receives a visit from her ex-boyfriend.
Endoscope by Dídac Gimeno A shift at a veterinary hospital, an emergency endoscopy… The first short recorded with an endoscope.


My other half by Beatriz Sanchís
Andrea and Adrián have been united by something from the moment of their birth, an unusual optical deformation that makes them see the world in an incomplete and complementary way at the same time. They both know of the existence of the other, since they are treated by the same eye doctor, Julie, and since they were little they have fantasized about the idea of one day finding "their other half".

Berlin by J. Enrique Sánchez
"Damn Marcos what are you doing here, I haven't seen you since Berlin". And of course my name is not Marcos, and of course I have never been to Berlin.

Plaza del Rei: June 4, 2011

Anniversary of Nayra and Javier Sanz Fuentes
To remember their apparent happiness, Mary and David celebrate a drab wedding anniversary each year.
The witch by Pedro Solís García
An old witch searches for her prince charming at all costs.
Pablo de Nely Reguera
A family tries to get back to normality.
Vexed in the time of Raúl Navarro
Carlos has the ability to travel through time and uses it to succeed with women. Until he meets Laura, a girl with the same ability. This is the story of a love relationship beyond the space-time continuum.
Lost look by David Pareja
Portrait of an instant of their lives.
Doomed (Condemned) by Guillermo García Carsí
Mr. Studio has the honor of presenting the failures of natural selection. A group of strange beings whose instincts instead of focusing on survival seem to condemn them to an absurd and comical extinction, before the astonished gaze of the narrator.


Taboo by Vincent Coen and Jean Julien Collette
An American couple, Frank and Cathy, take their son Julian to Belgium to help him discover his roots. But when Julian finds great love in Ghent, the goal of the trip is fulfilled in a very surprising way…
Lucille de Albert Pinto
César, a young man lost in a world of fantasy and idealization, will do everything in his power to achieve the love of his life, Lucía, or as he likes to call her, 'Lucille'. This is a romantic comedy about how you should never give up hope even if all signs point to the contrary.

Kote Camacho's great career
Year 1914. The Lasarte racetrack announces a race with a never-before-seen prize for the winning horse. The eight best horses and mares in the world have entered. Fans and high rollers from all over the continent come together to participate in the great event: the Half Million Grand Prix.