Mostra Dr. Mabuse is an international short film festival taking place in Barcelona for three days.
It is conceived as a festival open to new artists as well as experienced. A jury of professionals in the audiovisual world, teachers and students of film festivals and other collaborators carry out the selection of films to be screened in the three sessions that are scheduled during the month of May or June in Barcelona.
The project was initiated sixteen years ago with a single session as an activity in the neighborhood of Trinidad Vella, and has been growing and multiplying the number of films screened and registered (this edition we have received more than 1100 works), having received works of relevant directors such as JA Bayona, Daniel Sánchez Arévalo, Nacho Vigalondo, Mateo Gil or Kike Maillo.
Beyond being an audiovisual festival, Dr. Mabuse is intended to be a homogeneous and free event, in which everyone can have a good time enjoying theater and cinema.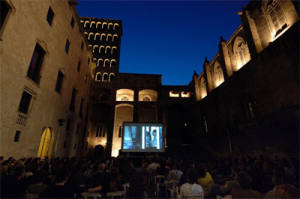 The shorts screened at Dr. Mabuse Festival not only belong to one genre or format. Every year, the jury tries to ensure that the selection of the best short films include the different cinematographic bets that have been made annually.
Another characteristic of the selection of Dr. Mabuse short films festival is our commitment not only to films of directors already recognized in the world of cinema but also for new directors and their first works.

The peculiarity of Dr. Mabuse festival lies in the proposed format projection, combining cinema and theater. Instead of offering just a sample of short films, there is a small short theatrical presentation between each short film projection. Clown, mime, stories for adults, sketches or showmans are some of the shows held, with actors and showmen responsible for carrying out presentations and being responsible of creating a connecting thread between every short film.
Always looking for new faces, new designs and new presentations, every year there is a poster made for the occasion with a different subject. In some editions there is also a spot shot through different audiovisual media. If you pay attention, you can see the Mostra Dr. Mabuse poster all around Barcelona during May and June!